Today, November 30th, marks the official end of the One Room Challenge and suffice it to say that that is a statement I make with humble regret. We really gave it our all, but my wish list and the extent of the structural renovations was far too long and extensive to have been realistic even for the 8 week challenge this year. But alas! I assure you the renovation will be major when you do finally see the full reveal next week. That I can promise. And we are in the FINAL STRETCH of this ORC home renovation with Emtek on our way towards the reveal!
To relive the journey thus far, please visit: Week 1; Week 2: Week 3/4.
Regardless of my time management failures, the time is almost here. I spent the holiday weekend moving from our rental to our now-home during the midst of the final stages of construction but we're functional and now firing on all cylinders again-- including and most importantly, new internet service.
To say this renovation has taken blood, sweat and tears is as cliché as it is accurate, but I will spare you the current state of my personal mental health for now. Despite my best efforts to make it mostly about "design" (as someone untrained but appreciative of it!), we have still solidly been in the construction phase up until this point. I am so proud of how far this little bungalow has come in just 2 short months. I will save most of my before and after reminiscing for next week but here we go. A little of what's happened over the last 2 weeks:
Cabinets went IN!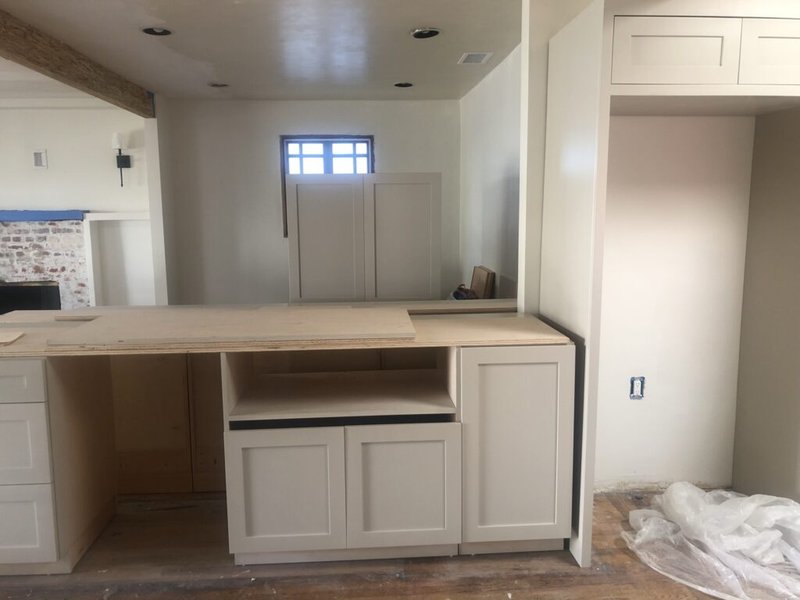 A future dishwasher, sink and fridge!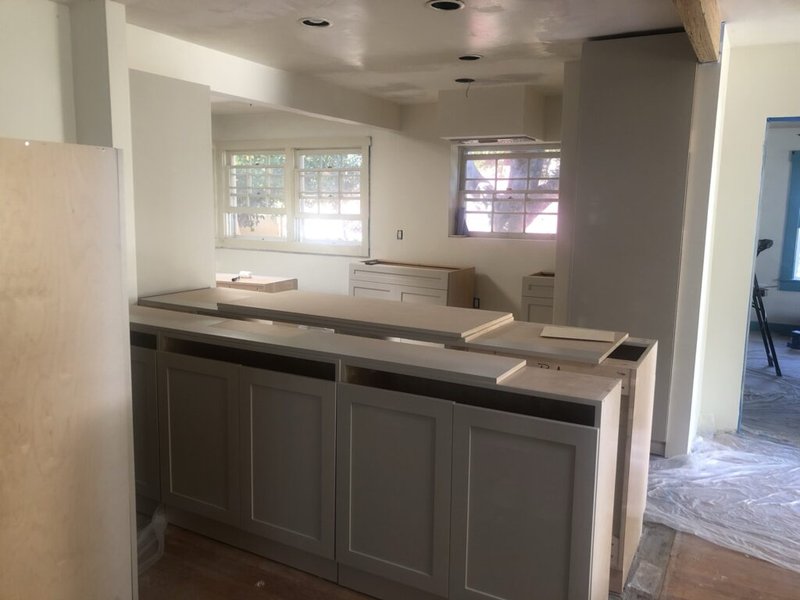 Rough but coming together...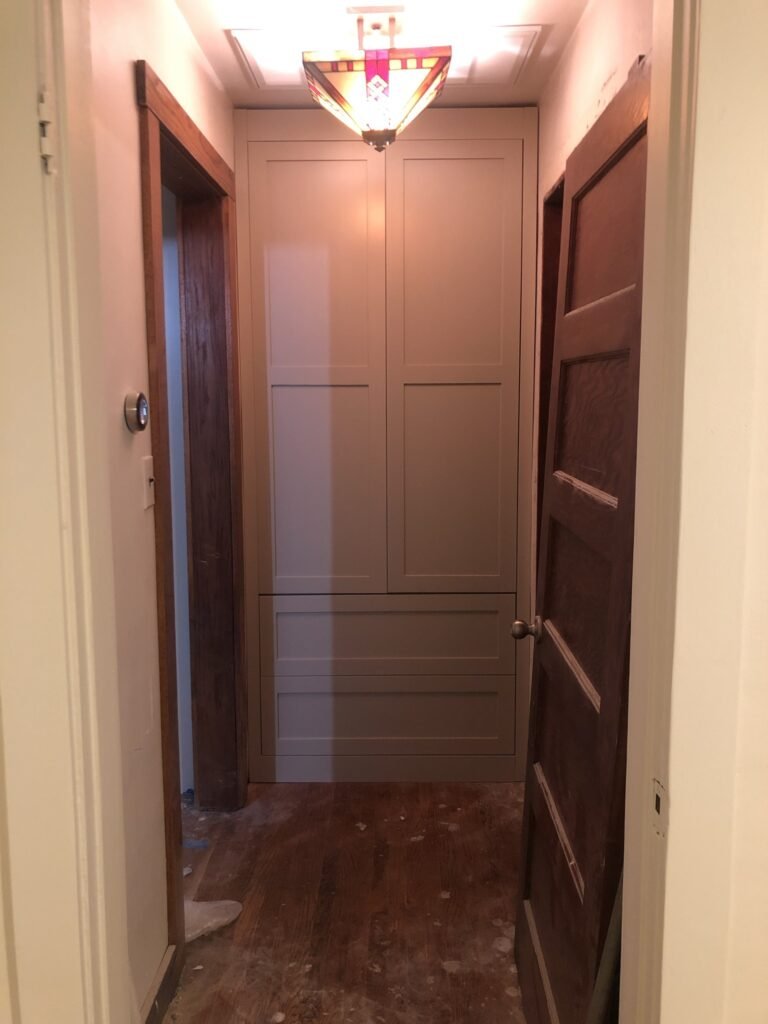 Linen Closet of my dreams but just imagine with 15" pulls from our sister brand Schaub & Company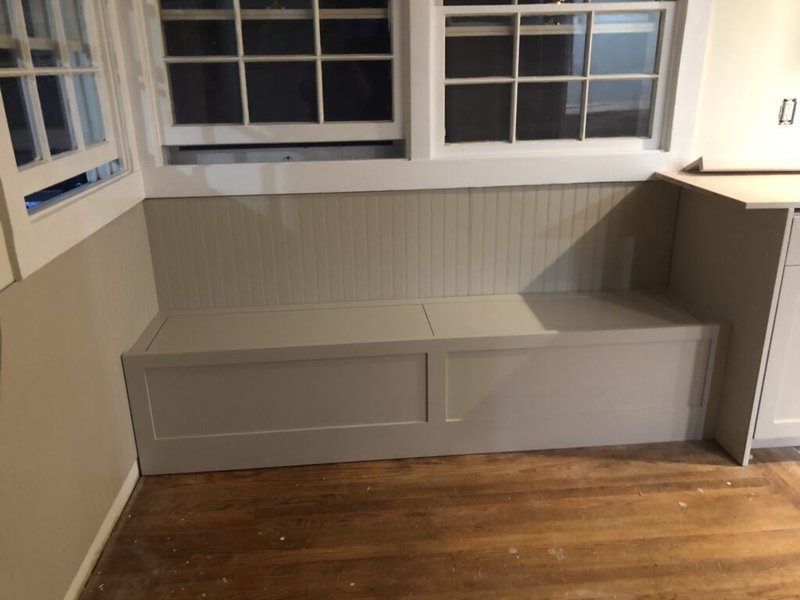 Check out the breakfast nook!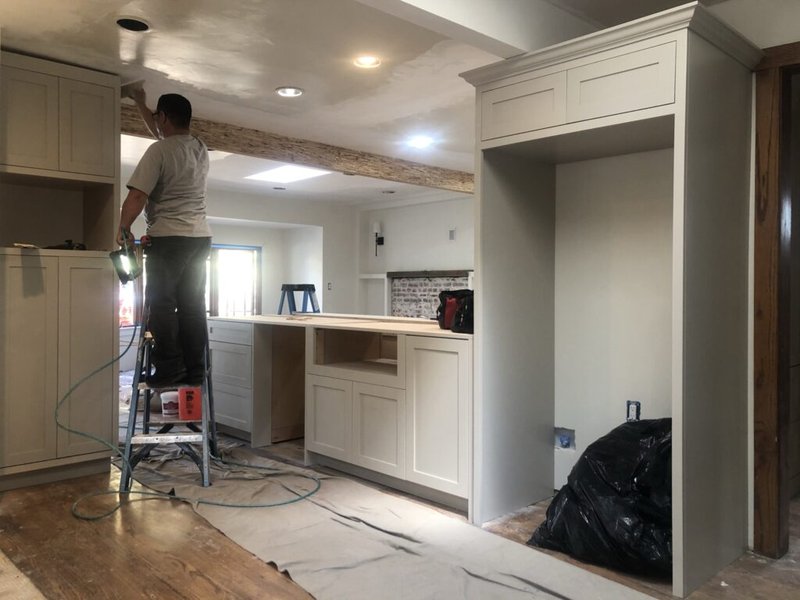 Look at that LIGHT!
Progress was also made on the bathroom: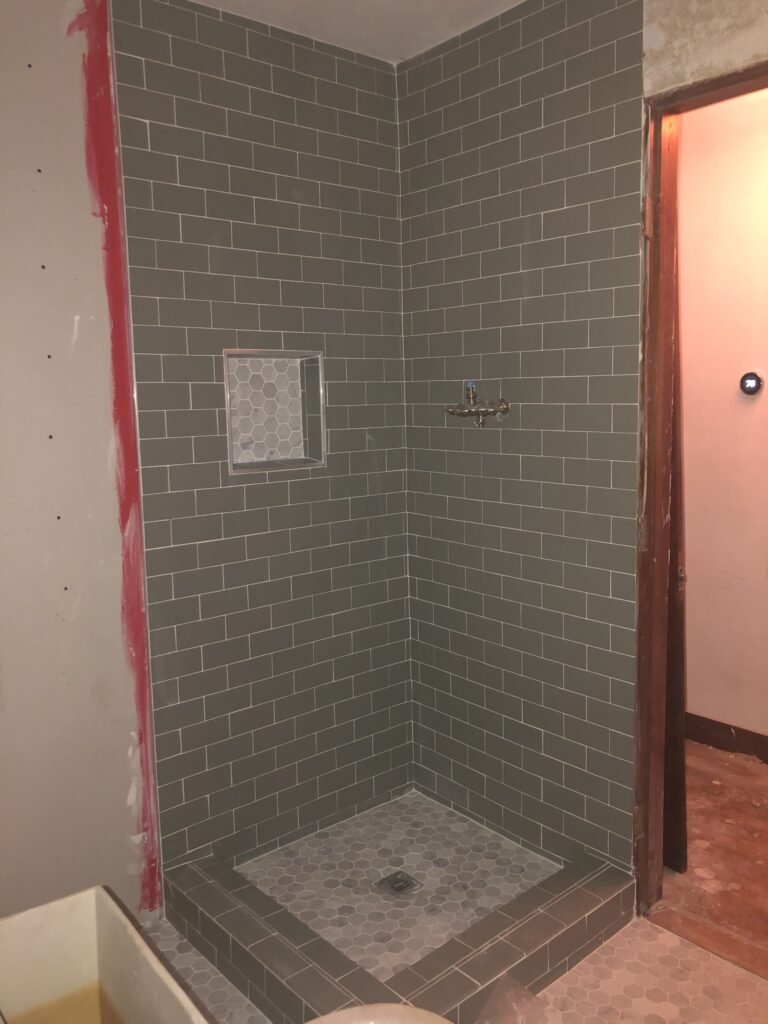 Tile from Bedrosians was completed!
All tile is from Bedrosians and I am mildly in love with it all. Shower is Costa Allegra 3" x 6" Floor & Wall Tile in Gulf (but I don't believe I paid those clearance prices!) and the floor is White Carrara 2" x 2" Floor & Wall Mosaic.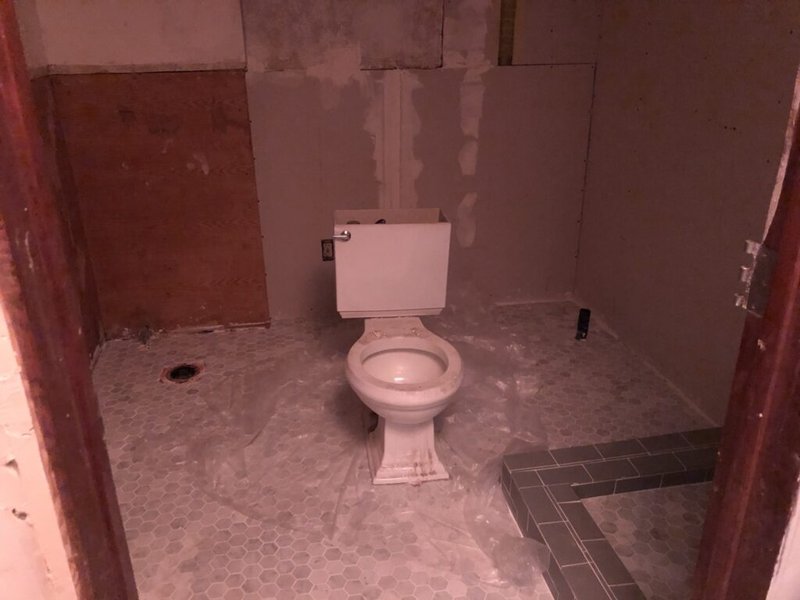 Drywall went in around this sad toilet....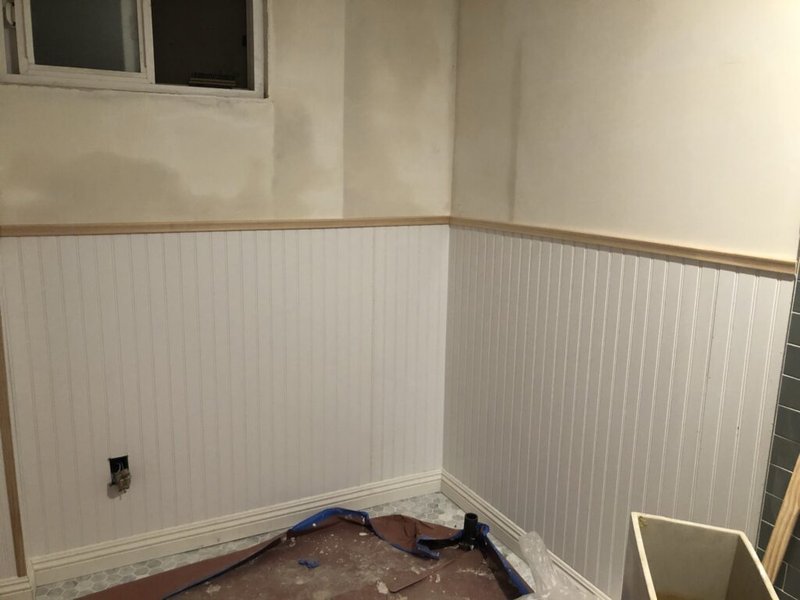 Followed by beadboard, waiting to be painted Benjamin Moore's Gray Owl with walls in Chantilly Lace.
Painting (by yours truly and a handful of wonderful, mask-wearing friends, who worked in COVID-friendly shifts and were paid in takeout food) and floor refinishing happened.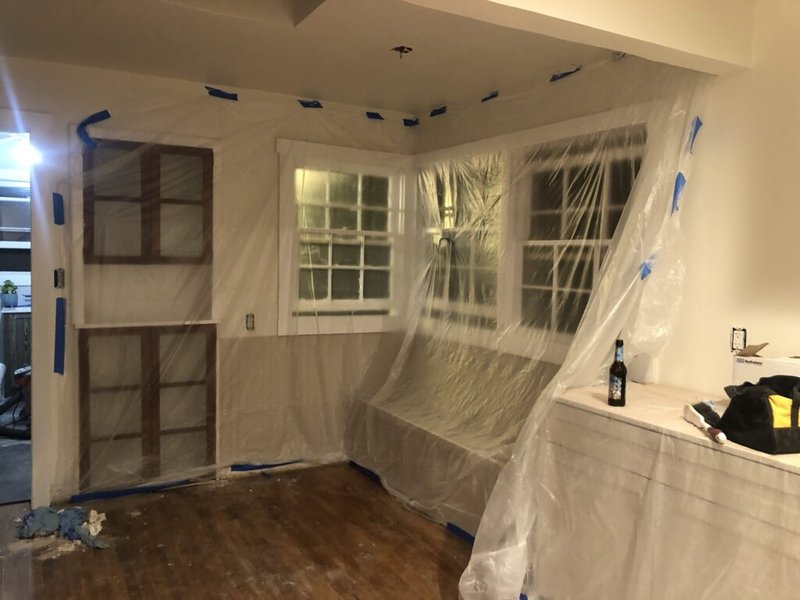 Beers were required.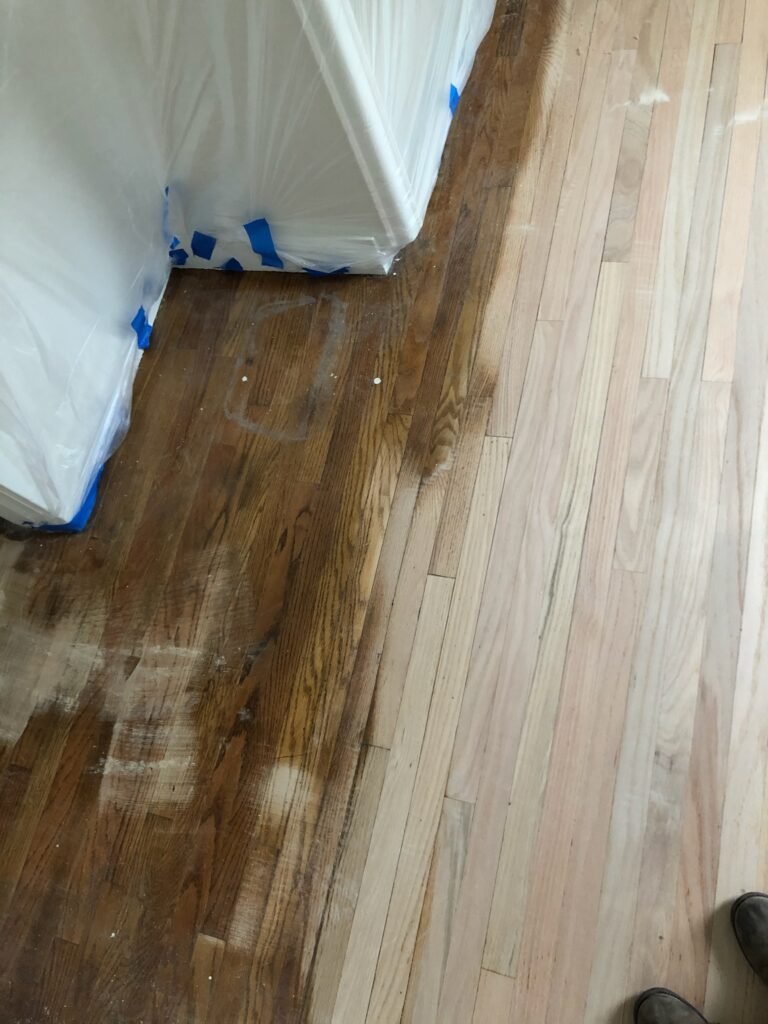 How's this for a before (stain) and after (sanding)?
Sanding in progress: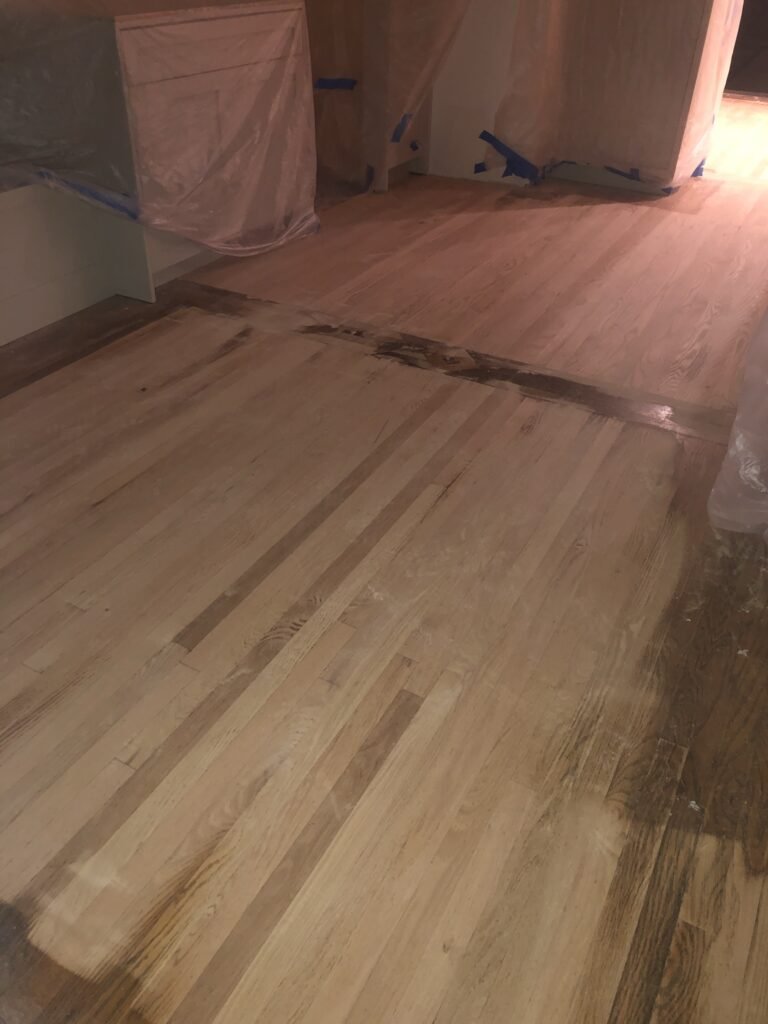 Dark dark dark becomes light light light
Post-sanding: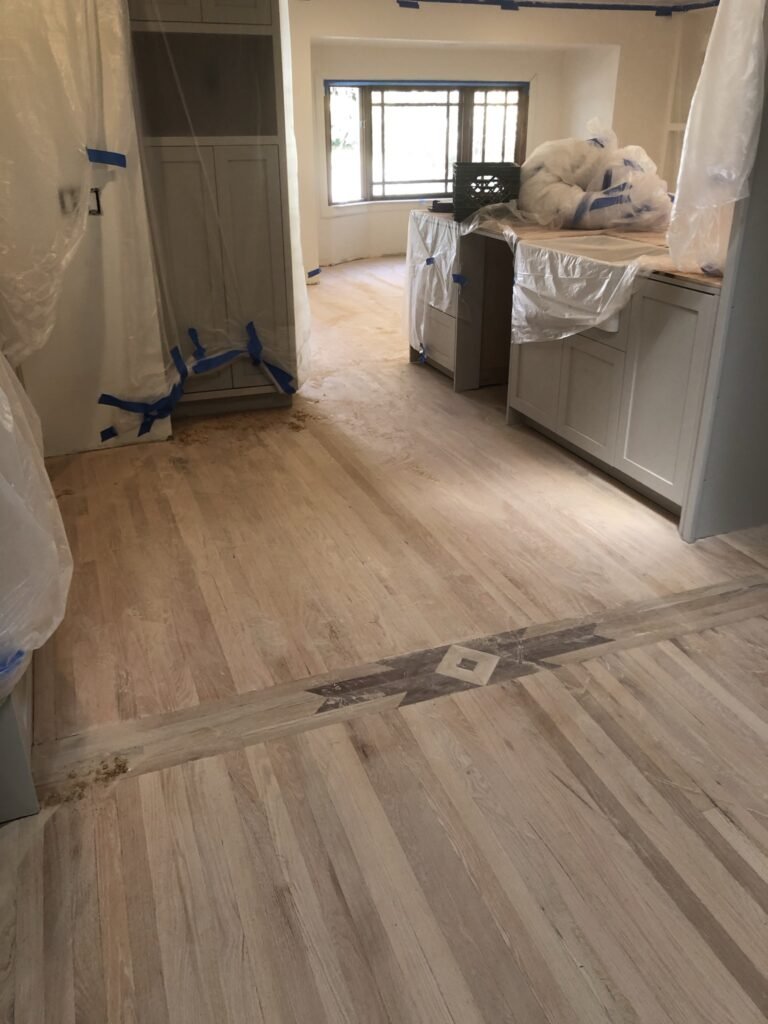 Pretty inlays...
And post-clear stain: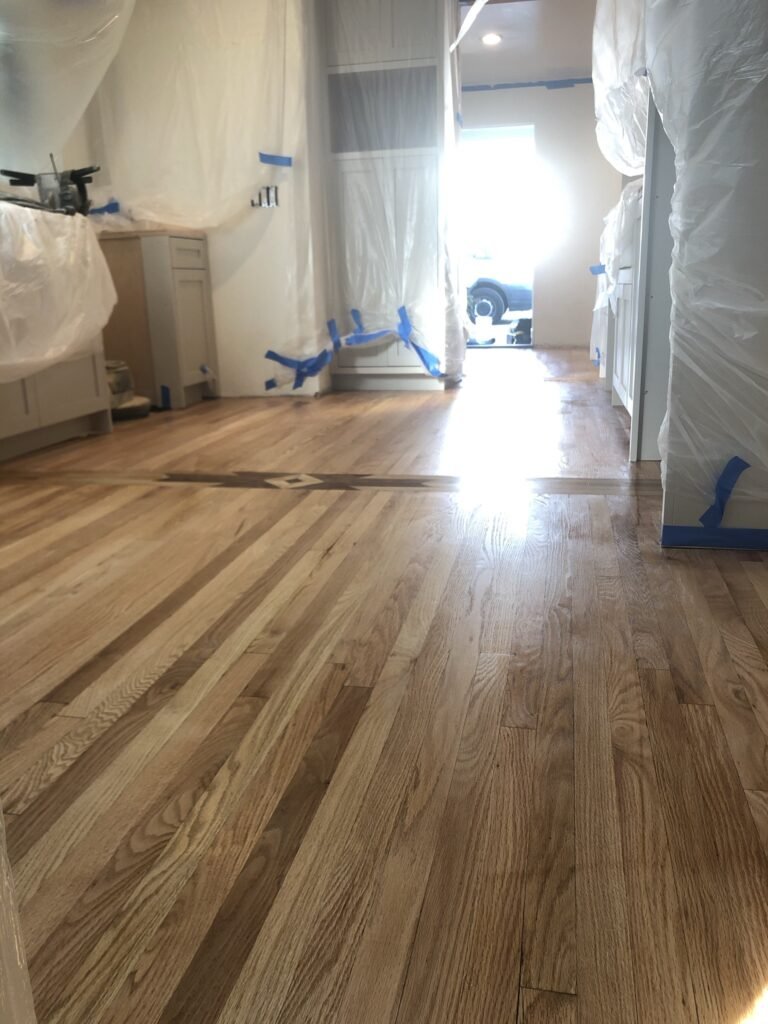 wow wow wow
Finally, the actual move happened. Man, does that process take it out of you....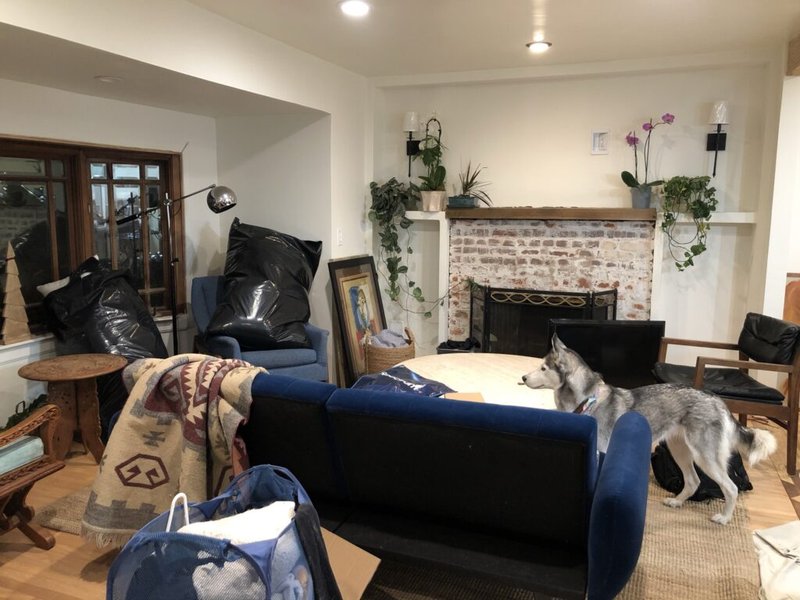 Plants find their temporary home first....naturally.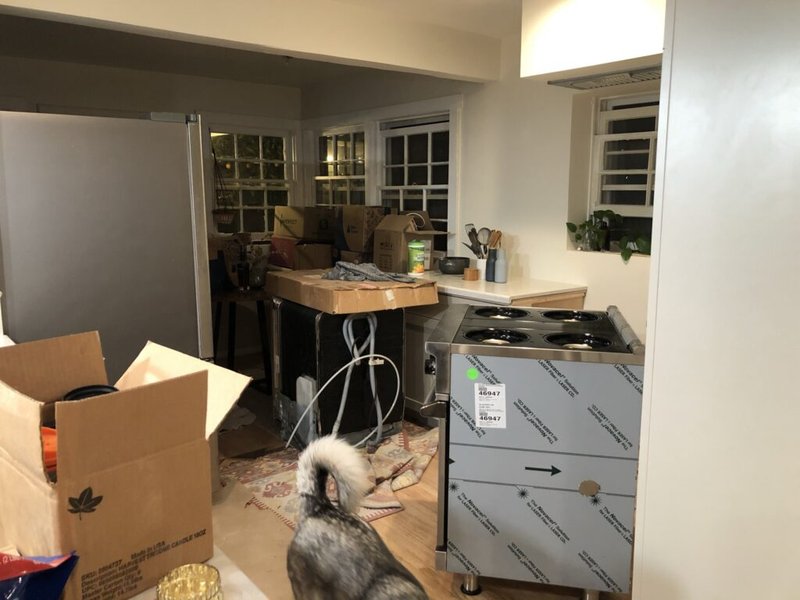 Dakota managed to make it into most pictures this day. Note the appliances in the middle of the room and ready for night 1 in our new home.
But after that, things began to take shape at a pretty rapid pace: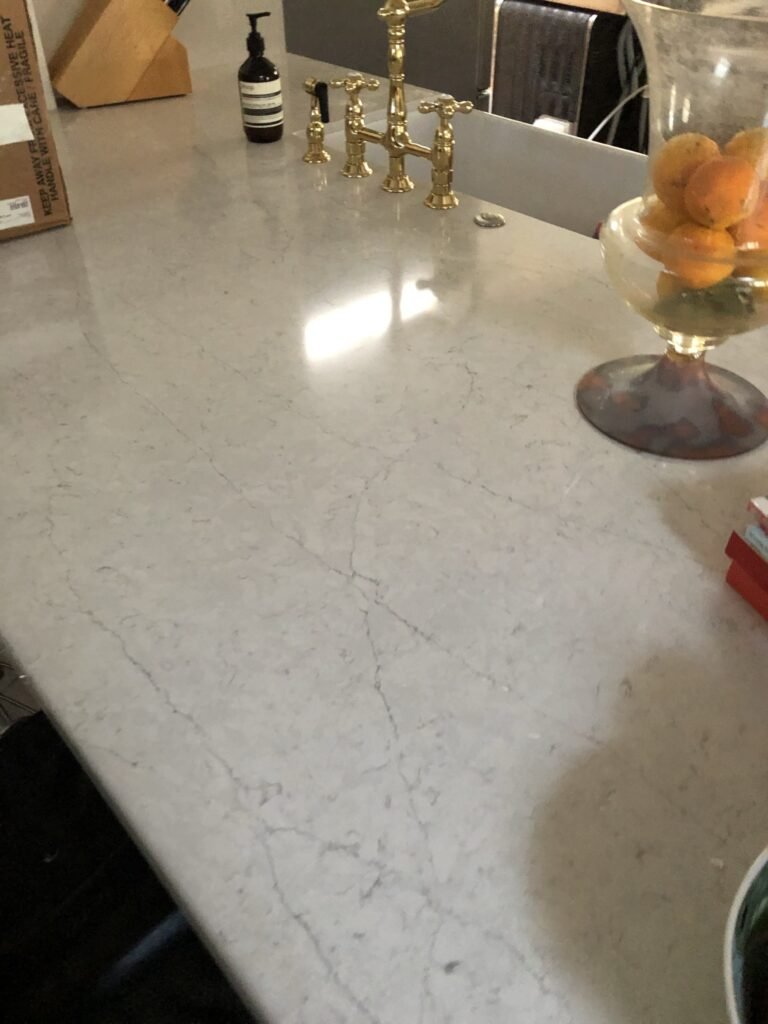 Countertops and faucet went in....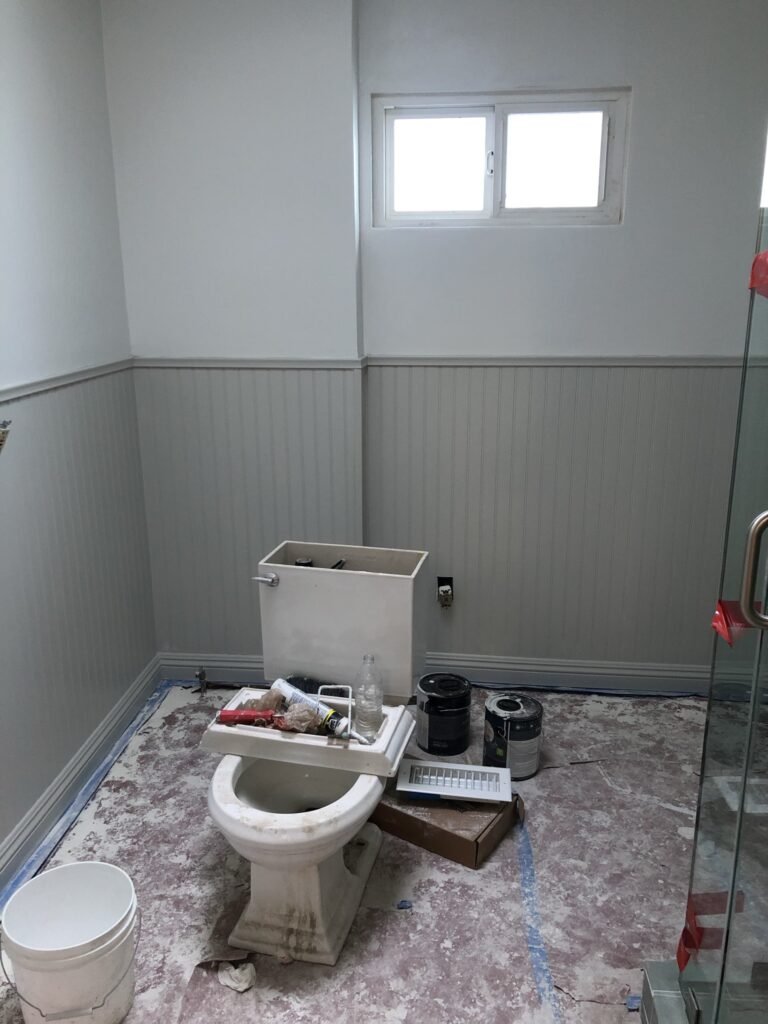 Bathroom got painted....
Paint is all from the inimitable Benjamin Moore.
Cabinets are Revere Pewter varnish. Walls are Swiss Coffee. Trim is Chantilly Lace. Bathroom is Gray Owl on the beadboard and Chantilly Lace on the upper walls.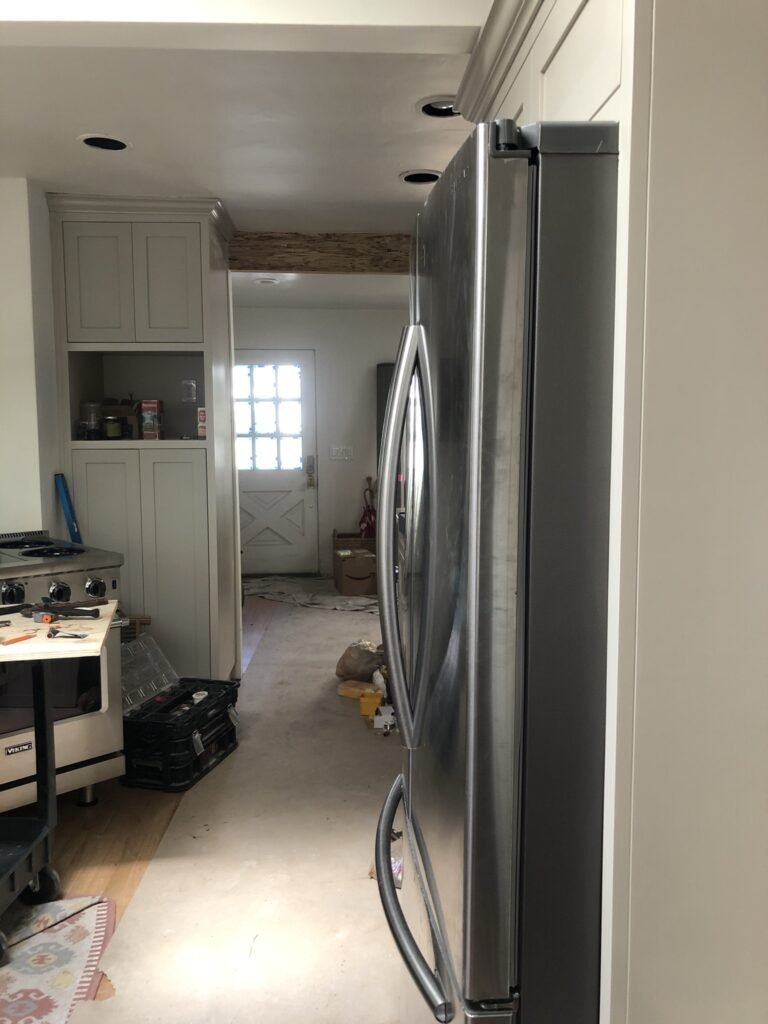 Appliances began to find their rightful homes....(albeit, slowly)....
Viking 30" Range and Dacor 24" Panel Ready Dishwasher....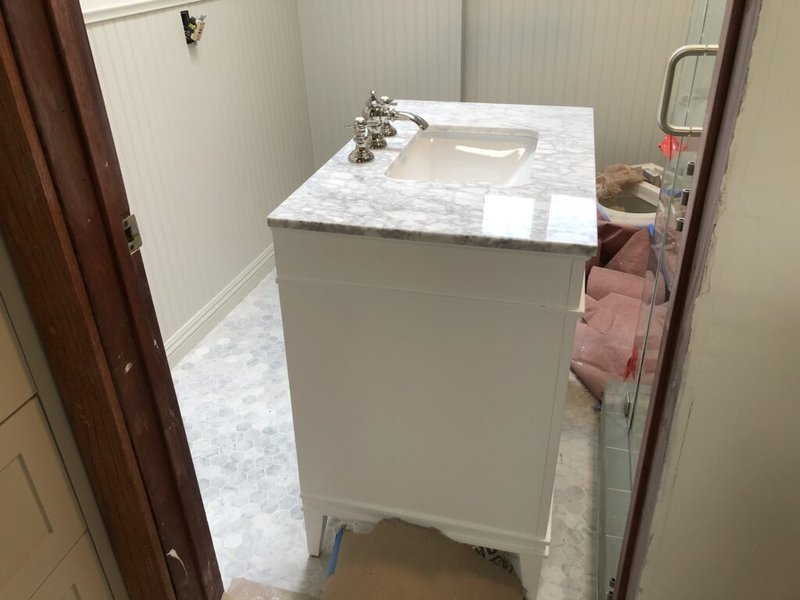 Vanity went in with new faucet!
Vanity from Joss & Main (but no longer available) and Faucet courtesy of Emtek dealer Wayfair. Don't worry, she's getting new hardware too!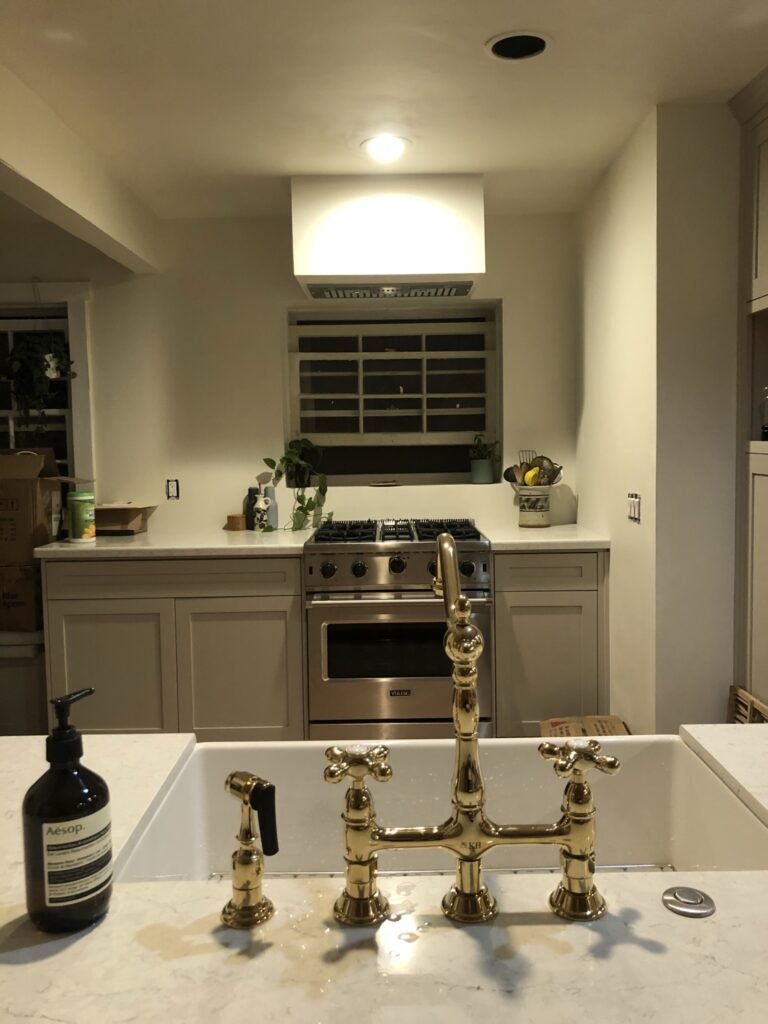 Then I started nesting and slowly losing my mind as little bits went in and cabinets got filled....
Polished Brass faucet from Kingston Brass via Wayfair.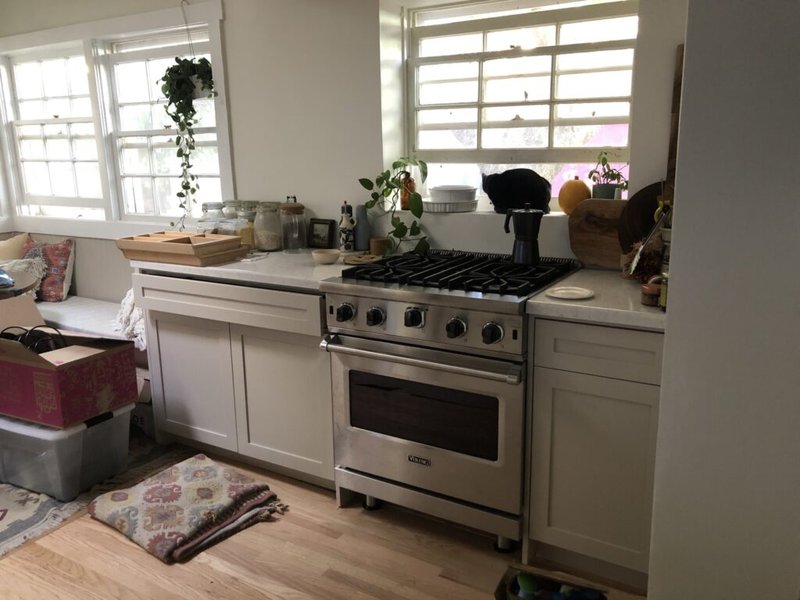 Cats found windows....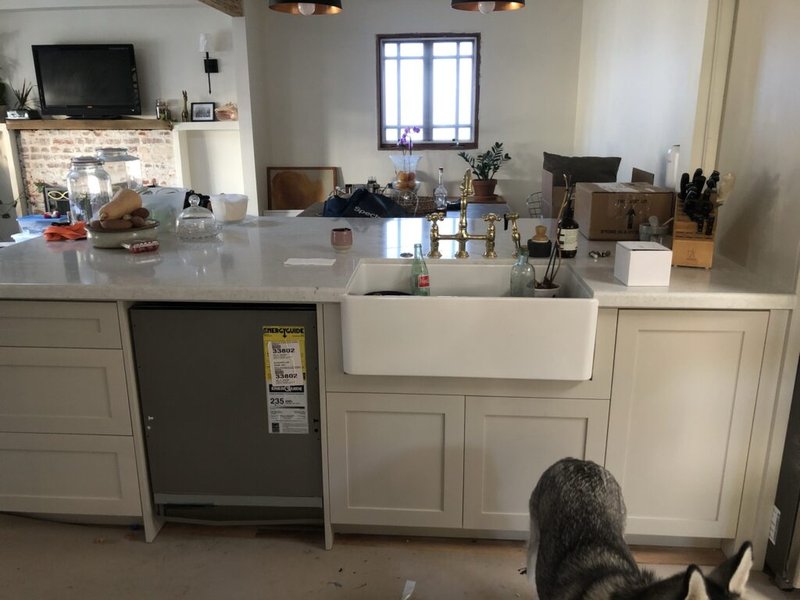 Dog butts made every possible appearance they could...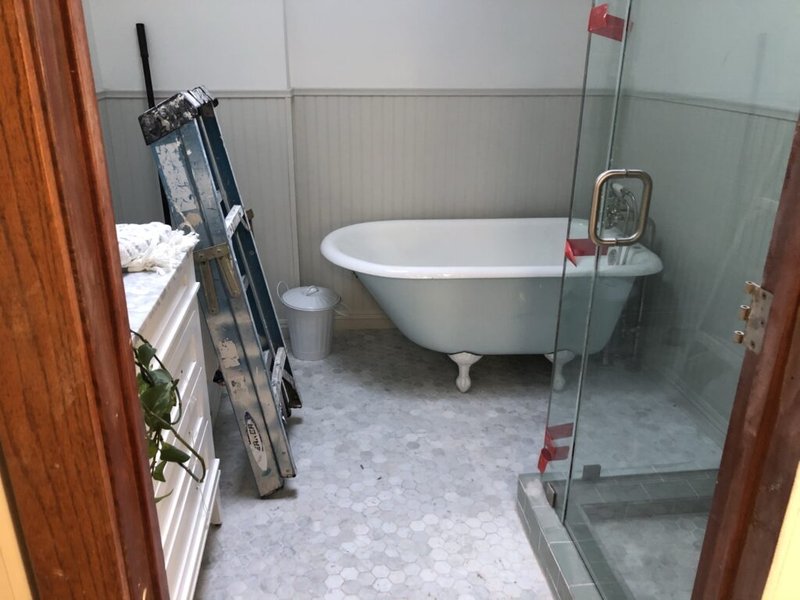 THE BATHTUB WENT IN!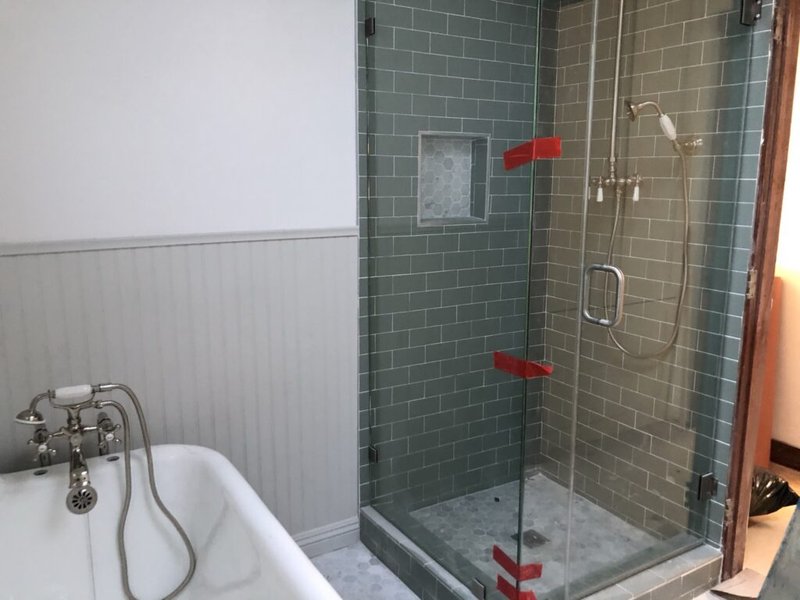 AND THE FIXTURES AND THE DOORS!
So that's where I'm going to leave this seemingly endless saga for now. We are making the final finishing touches then getting this beauty shot by a real professional and not a marketing manager with an iPhone. Much love and respect to all the One Room Challenge featured and guest designers, past and present for their impressive and (more timely than mine!) beautiful work. Emtek and Schaub & Company are always so thrilled to be sponsors for this wonderful bi-annual event and we're even more thrilled to try our hands at it!
I'm saving the best for last though: the final hardware selections. I may be biased but I think you're going to love them as much as I do. Thank you so much for following along on my ORC home renovation journey!
Cheers until next week but in the meantime, please check out the final reveals from all the featured designers here:
Albie Knows | Ana Claudia Design | At Home With Joseph | Barbour Spangle Design
Dwell by Cheryl | Eneia White Interiors | Gray Space Interiors | Haneen's Haven | Hommeboys 
Interiors by Design | Jana Donohoe Designs | Laura Hodges Studio | Lauren Nicole Designs
Nicole White Designs | Nikole Starr Interiors | Nile Johnson Interior Design | Prudence Home + Design
Thou Swell | Traders Haven Design | Whitney J Decor | HPMKT
xx,
Amy