When they said renovations are no joke, boyyyy did they mean it. Apologies for skipping last week—I really needed to get a handle on all that is happening on this project(s). But we did get the walls out and the structural beam up and he's the current floorplan view (there used to be two walls across the majority of this):
Not quite the same angle but you get the point. :)
You see, my friends….I have been holding out on you. Not only are we (perhaps stupidly) taking on the bathroom and kitchen renovation at this time in the 2 months before we move in (now 1 month!), but we've also managed to tackle a few other simultaneous projects ourselves and with some specialty contractors. These projects include but are not limited to:
-Building a deck
-Building a fence
-Finishing a basement
-Insulating a shed and turning it into a workspace for yours truly
-Replacing an entire roof
-Reinforcing a 100-year old chimney on the verge of falling down
-Installing AC
-Refinishing floors
-Painting the entire interior
-Re-dry walling around the bay window
-Completely rehabbing the fireplace/mantle
-Building custom bookshelves around said mantle.
-Installing 3 skylights….

The list goes on. While fixing up a house before you move in might be commonplace, we probably underestimated the workload and the timeline…just a little bit. So while most of the above projects have been completed (!!) or are near completion, the work they have required has pushed back some of our own work as they relate to this challenge. Construction timelines are always fluid, am I right?
I think we're still going to feel a deep sense of relief in a month when (hopefully) most of the big stuff is done.

No matter—I only preface today's post with this to ensure that while progress on the kitchen and bath are not as advanced at this point in the challenge as I'd like, it hasn't been because of a lack of effort (or planning, or logistics). Gratefully, Linda and the wonderful team at the One Room Challenge have graciously moved back the deadline to account for COVID delays and poor time managers like myself. Still keeping my fingers crossed that we can tidy things up enough for a full reveal at the end of November.
Here's the current kitchen, patiently awaiting drywall, new water and electrical lines and a gas line: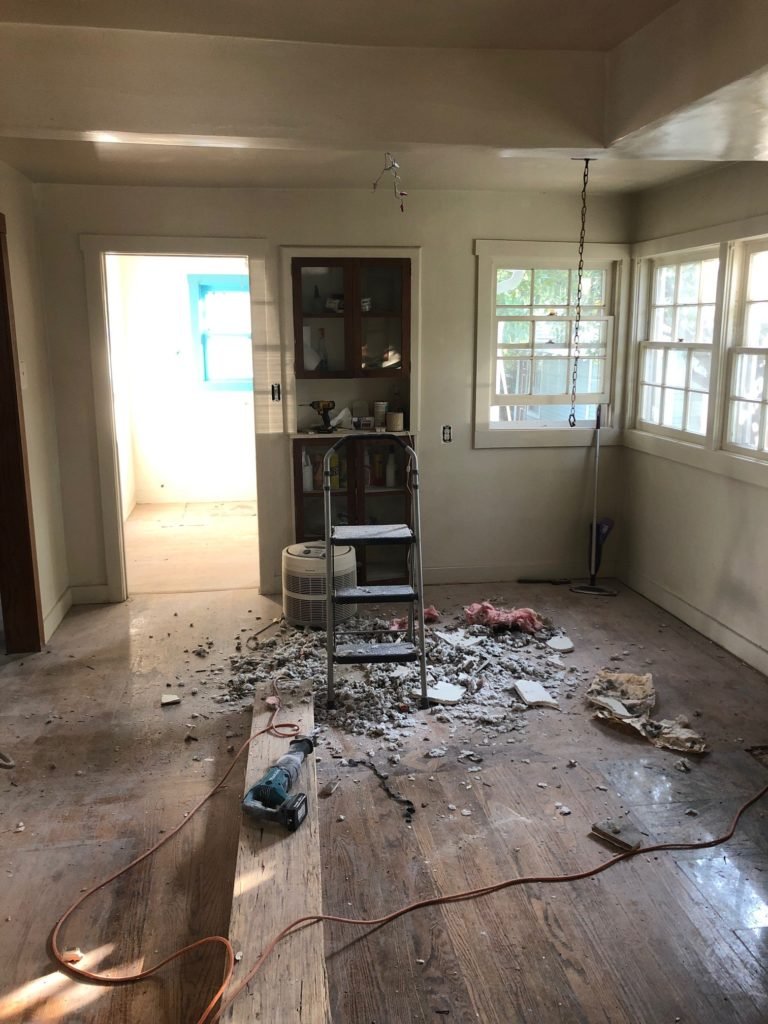 In the aftermath of skylight installation....

And for what its worth... some more demo images:
So....that's sort of where we're at. The house is definitely still a construction zone, but the main walls are OUT to make way for a kitchen island and to make way for more light into the center of the house. The structural support beam is in and functional. Skylights still need to be framed but they are installed. Framing has begun in the bathroom for the shower and tiling should be happening over the next week. Cabinets are being built and constructed. Appliances have arrived and await their final destination.
Electrical is going in as we speak.

Oh and the roof, chimney, AC, deck are finished! Here's Dakota modeling the new deck and fence: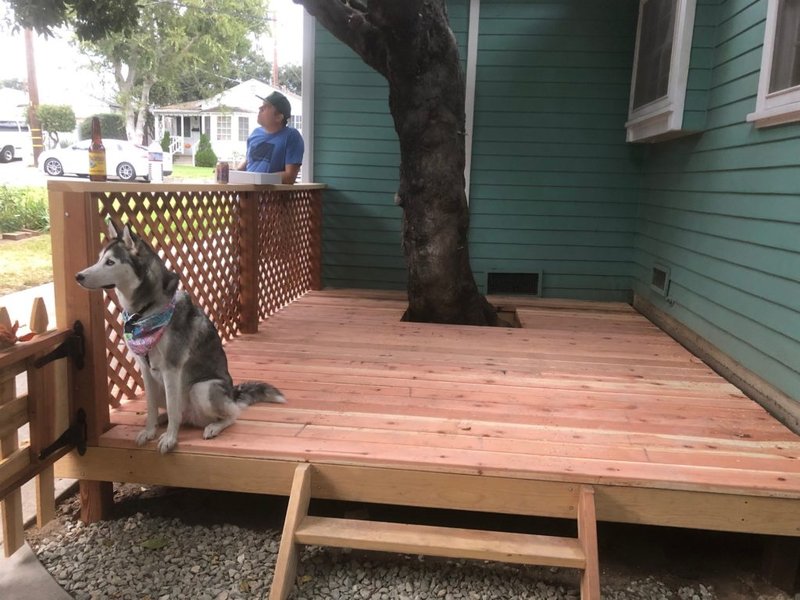 Imagine all the plants growing up the trellis...


The mantle is still a work in progress but its coming along with the help of our friend, Kurtis, and my very patient husband, Wes. They are a dry walling/framing super team.
Here's some of the before and in-progress shots....
And the current situation (with dog model Leia):
I say this with the utmost optimism but I think the next couple of weeks will be a full sprint from drywall to cabinets to tiling to countertops and lighting and appliance, oh my!
Thank you for sticking in there with me and hoping I have some truly exciting things to show you next week. Cheers to the weekend (and more projects!). And please be sure to check out some of the other wonderful design participants:
xx,
Amy