For all the DIY'ers out there, we're here to shed some light on cabinet hardware placement. Grab your knobs, pulls, and tools and follow along in this guide on how to decide on an important aspect of any home remodel or new build: deciding how you're going to arrange your new cabinet hardware.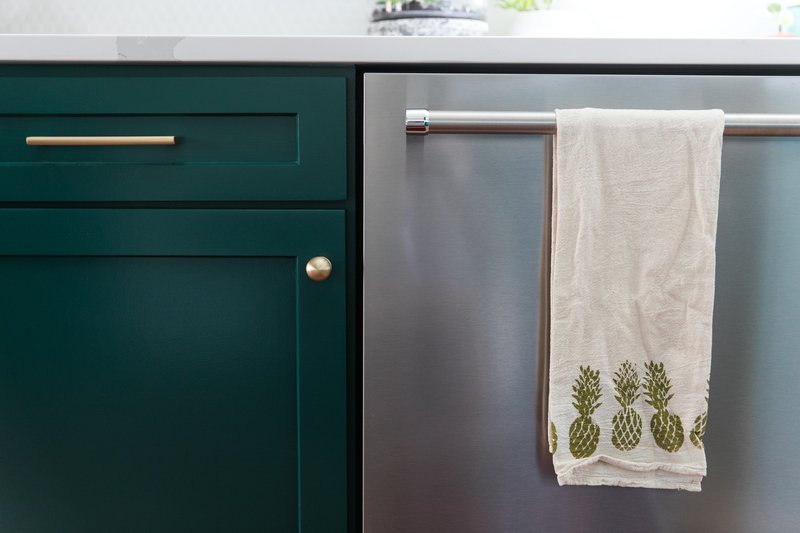 If you're looking to change out your cabinet hardware DIY style but aren't sure how to go about choosing the right size or type, don't call a handyman just yet! We're here to break it down to the basics to make sure you have the knowledge and tools to make your design vision come to life.
Let's say you're taking on a total room remodel (whether that be your kitchen, bedroom, bathroom, etc.) and you're elbow deep in saw dust and paint. You may have totally new and undrilled cabinets waiting to be adorned with cabinet knobs and pulls, or, as we like to call them at Schaub & Company, jewelry for the home. If that's the case, then you have total freedom to choose which kind and size of cabinet hardware to install.
You can choose knobs, which come in a variety of sizes and shapes including round, square, t-shape, and a multitude of unique decorative styles. Knobs are a great choice for cabinet doors.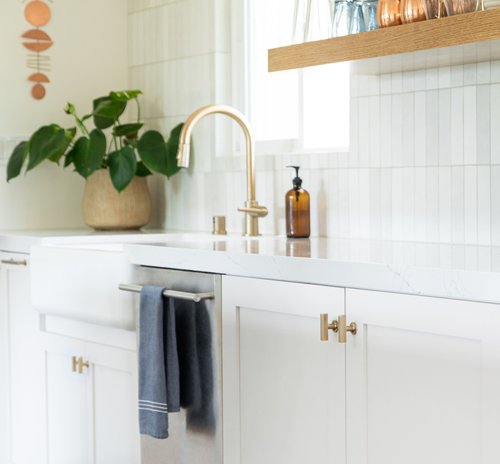 There are also cabinet pulls, which also come in many shapes and lengths. These are great for cabinet drawers!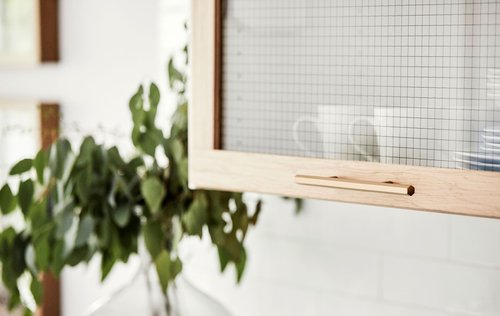 Appliance pulls are pretty handy (pun intended) for larger cabinets! The larger appliance pulls help distribute the weight for heavier doors.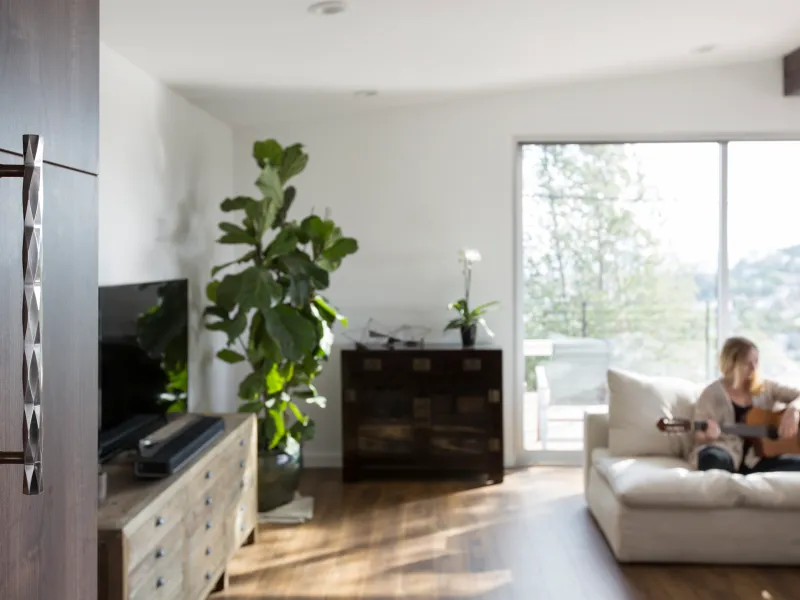 There are so many options! The sky is the limit! Once you choose which hardware you want to install, the next step is to figure out where on the cabinets you'll place the hardware.
Undrilled vs. Pre-Drilled Cabinets
Before we get to installing any hardware, we need to assess what we're working with. Do you have brand new cabinets that have yet to have any holes drilled into them? If that's the case, then the sky is the limit! You have complete agency in deciding which style and size hardware you want to purchase and install.
Pre-drilled cabinets are little more complicated, but it's nothing that can't be handled with a little brainstorming. The main concern to address here is whether or not you want to cover up the existing drilled. If you choose to cover them up, then you regain full freedom of choice in placement, style, and size.
Choosing to use the existing drilled holes? Then you will need to work within the limitations set by them. If you had knobs installed, you can still choose any style and size that you wish, however, you will need to keep the original placement. For cabinet pulls, you will need to measure the existing center-to-center spacing between the two drilled holes and make your new hardware selections based on that size measurement. In some cases, you may be able to get away with choosing a bigger sized pull if you can get them to cover the old holes nicely. :)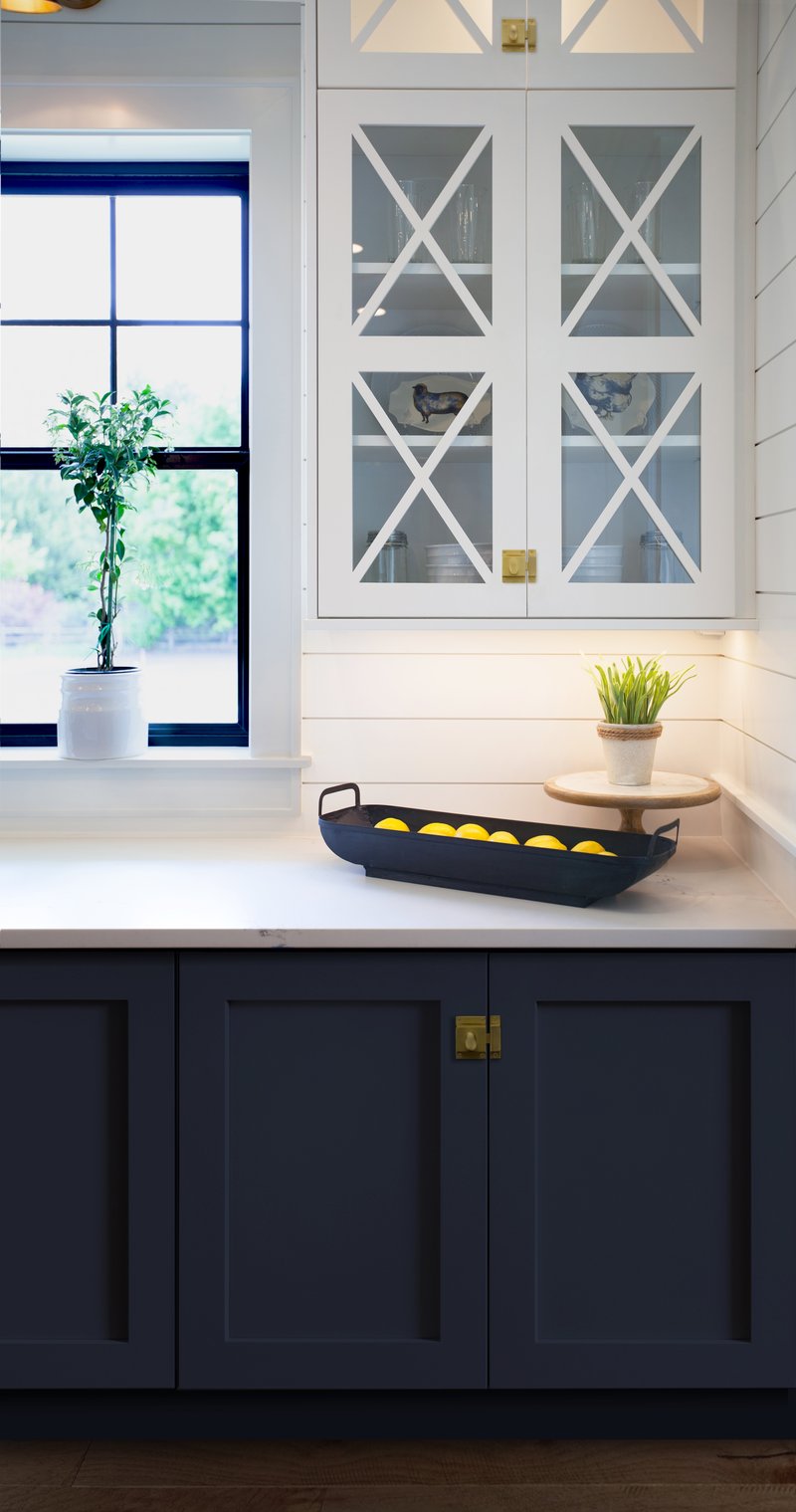 Anatomy of a Cabinet Door
Now that we've established which options you have for placing your cabinet hardware, let's review the anatomy of a cabinet door.
The vertical pieces of the border (stiles), the horizontal pieces (rails), and the interior (the panel) are the key pieces to know.

Placing Hardware on Cabinet Doors
Ultimately, the placement will be determined by your personal taste, however, here are a few standard guidelines to help facilitate your decision.
For upper cabinets, you're going to want to place them in a way that makes them easy to reach. Many folks opt for placing their knobs or pulls on the lower corners of the cabinets typically along the stile, which is the vertical piece of the frame.
For lower cabinets, knobs and pulls are often placed in the upper corners, again, for ease in accessibility.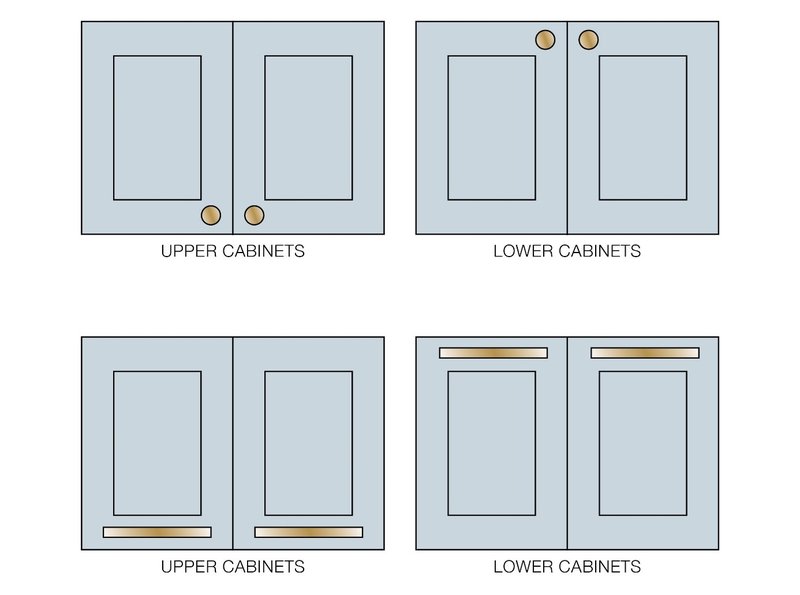 Placing Hardware on Cabinet Drawers
For small to medium sized cabinet drawers, you can use either knobs or pulls. You can choose to center the knob or pull on the panel of the cabinet or have them aligned near the top along the rail, or horizontal piece of the frame.
For larger cabinet drawers, you may choose to install two pulls or knobs distributed across the panels. On the other hand, you may opt for an appliance pull instead which would typically be centered on the cabinet panels.

Measurement and Installation
With the placement decided, the next step is to measure and drill holes into your cabinets.
When you purchase cabinet pulls or appliance pulls, take note of the center-to-center length. The center-to-center length is going to be the space measured from the center of one drill hole to the center of the other. That way you know how far apart to drill the holes into your cabinet!
To measure, you can use a measuring tape or a jig, which is a template with pre-measured holes punched into it (available at hardware stores such as Lowes or Home Depot).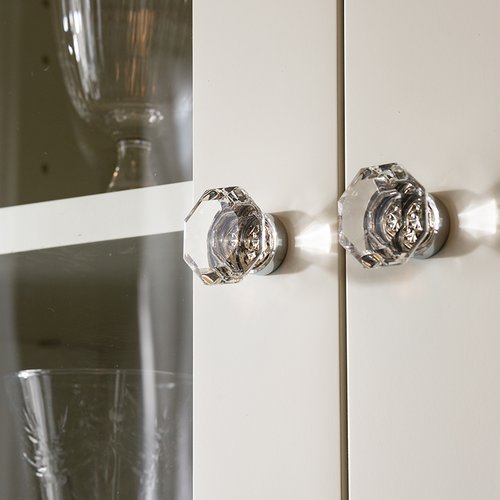 Quick tip for measuring: use masking tape to mark the spots where you'll be drilling to avoid having to mark directly on the cabinets!
Finally, before picking up the drill, quickly double check your measurements. Then, carefully begin drilling, using the smallest drill bit, while holding the drill as straight as possible. Once the holes are drilled, you are ready to install!
When you order cabinet hardware from Emtek, we makee sure to ship your order with all the necessary screws so that the installation process is as easy as possible.
Be sure to check out our cabinet hardware selections on our website emtek.com and if you have any additional questions or need assistance, feel free to reach out to our Customer Service team at 800-356-2741.